The SightCall agent language supports multiple languages. You can change the language at any time from the agent console Settings menu.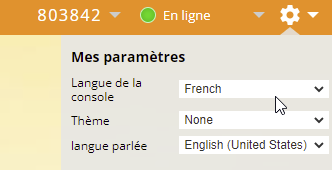 For a list of supported languages, refer to What languages are available in SightCall?
Changing the console language
To change the console language:
Sign on to the agent console (console.sightcall.com).
Select the Settings (gear) menu.
Select the Console Language drop-down and choose a new language.

When prompted, select Refresh to reload the page and have the change take effect.