The SightCall agent experience for desktop agents and agents using the SightCall app is slightly different due to the nature of the platforms they are using. Agents using the SightCall mobile app can conduct a visual support session from any location. Dekstop agents may be less mobile, but they benefit from a larger screen.
Available features
Most of the features available on the desktop agent console are available in the SightCall app. For a feature list, refer to SightCall Supported Features for Visual Support App, No-App Experience, and Browser (WebRTC) (requires login as a SightCall admin).
Screen sizes and layout
While desktop agents can resize a browser window for more screen real estate, agents using a mobile device have to contend with the limitations of their devices.
The primary difference is the layout of the screens. The scenario you choose when you start a session determines the icons and features available. The screenshots below illustrate some of the differences. The devices used for these sessions include:
Desktop agent console: MacBook Pro using Google Chrome
Android tablet: Google Pixel Slate Android tablet
iPhone: iPhone 12 Pro
Starting a session
Starting a session remains the same basic steps:
Select a scenario (use case) to use to connect with a guest
Select a connection method and enter the information
Send an invitation to a guest
The device you are using changes the location of the options.
| | |
| --- | --- |
| Desktop agent console in a browser | |
| SightCall app on an Android Tablet | |
| SightCall app on an iPhone | |
During a session
The differences in how the SightCall console appears are more noticeable for agents on mobile devices. While the same options might be available, screen size and resolution impact how and where you can access commands.
All icons on the Local and Remote tool panels are configured in the use case for the scenario. The desktop agent console is on a larger screen than a mobile device. The Local and Remote tool panels are larger and are always visible in the agent console.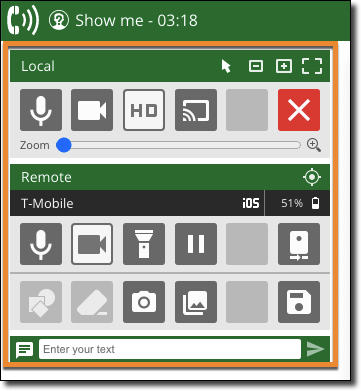 On mobile devices, the Remote tool panel appears across the top of the screen and the Local tool panel is across the bottom of the screen during a support session. Like the desktop console, the use case controls the features available but also the visibility of the tool panels. The tool panels can be configured to be always visible or only when the screen is touched.
| | |
| --- | --- |
| Desktop agent console in a browser | |
| SightCall app on an Android Tablet | |
| SightCall app on an iPhone | |