With annotations, you can provide illustrative instructions using tools available on the Editing panel. You can illustrate areas to focus on or the next steps on a still image that is visible to the agent and the expert.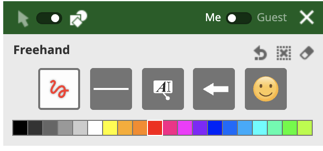 If you are updating a ticket from customer support sessions, the annotations are optionally saved to the customer's system of record. The save picture settings apply to annotations, since these annotations are saved with the image.
In this article
This article explains how to annotate pictures during and after a session. For instructions on how to select annotations for a guest to use, refer to Selecting photo annotations for a guest during a session.
In this article:
Enabling advanced annotations
A Sightcall admin can add the feature to a use case using the steps in the Enabling Photo Annotations in SightCall article.
Accessing annotations
You can use advanced annotations during a session when editing a video or picture using these features:
Share Picture
Take HD Picture
Pause Video
In addition, you can annotate images after a call and before submitting an image using the Edit capability in the Photo Annotations.
Tips for using annotations
Drawing annotations are not available during a live video, neither for the agent nor the guest.
Be aware of which annotations are selected, whether they are agent (local) or guest (remote).
Advanced annotations are not available for use cases started from the SightCall app.
Adding annotations during a session
To add annotations during a session:
During an active session, select either Pause Video (1 in the screenshot) to annotate on a low-resolution picture or Take Snapshot to annotate on a high-resolution picture.
Select Drawing (2 in the screenshot) to toggle the Editing panel. The icon status changes to Drawing On (white background).

Use the tools on the Editing panel (3) to modify the image. The toggle lets you change from pointer selection to drawing tools. Refer to the Editing panel section below for a description of the tools and their capabilities.
Preserve the changes by selecting Save or select Resume or Take HD Picture to discard your changes. Any annotations added to a paused live feed are removed once the feed is resumed unless you Save.

If you accessed annotations using the Preview gallery > Edit, close the image preview and select either Close and Save to preserve changes or Close to discard them.


You can select and modify your own annotations, but you cannot edit ones made by a guest.
Using Erase Drawings to erase all of your and the guest's annotations.
Adding annotations after a session
You can annotate an image in the picture gallery menu before it has been submitted to a cloud media endpoint.
This option is only available in scenarios that are configured to save images in the Preview gallery and have a cloud media endpoint configured.

For detailed instructions, refer to the article, Editing pictures in the Preview gallery menu.
Sharing annotations with a guest
During a call when Sharing is available, you can select this option to share annotations with the guest. The Editing panel changes to provide annotation options for the Guest (remote) or for you (Me).
For instructions on editing and pointers, refer to the article Selecting annotation options for a guest during a session.
Editing panel tools
The Editing panel contains five larger icons that have subsets of tools: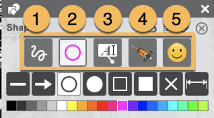 Freehand (1) provides tools you can use to draw or mark key features.
Shapes (2) provide predefined shapes.
Text Area (3) provides an arrow and text box like a callout that can be used to add text.
Animations (4) provide animated icons like a screwdriver that you can use to show actions, such as rotating left or right.
Symbols (Emojis) (5) provide smiley faces, warning icons, and others. Contact SightCall to customize the symbols.
For additional information on the editing and annotation tools, refer to Photo editing and annotation tools.
For information on changing pointers, refer to Selecting pointers and annotation options for a guest during a session.
Tips for Using the Tools
All of the editing tools use a click-and-drag method:
The initial click sets the location or center point.
Dragging out scales up the tool and increases line thickness or size of the annotation.
Moving the cursor in makes the annotation smaller.
Once you release the mouse after positioning and sizing the annotation, you cannot change the annotation. You can only select, move, or delete the annotation.
Deleting annotations
You can delete an annotation by selecting an annotation and then either right-clicking on it or selecting the Erase icon.
You can also remove all drawings using Erase Drawings on the Remote panel to delete annotations from an image. This removes local and remote annotations.