SightCall for Salesforce is available from the Salesforce app exchange.
You can deploy it by following the steps below:
Step 1 Go to the AppExchange and click on

to download & install the SightCall Package
Step 2 Fill the Request for activation form.
Step 3 A SightCall representative will contact you shortly. Afterwards, a SightCall tenant will be created for your SightCall for Salesforce package and You will receive an email to activate your SightCall admin account on admin.sightcall.com.
Step 4 Retrieve your SightCall API Key associated to your SightCall tenant.
Step 5 Retrieve your Salesforce domain.
Step 6 Activate your package via Register your package.
Step 7 Add the SightCall component to a Salesforce App.
Step 8 Add SightCall Extension to your web browsers.
Step 9 Install SightCall Plugin.
Step 10 Enable SightCall Widget.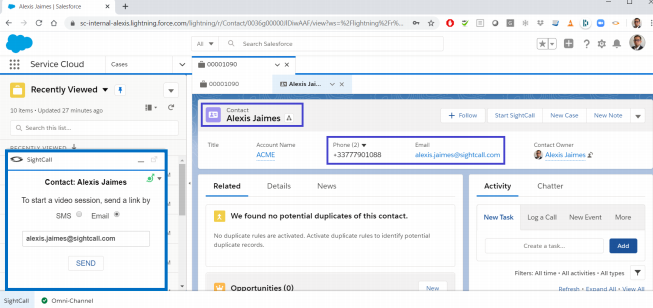 SightCall for Salesforce is now activated and ready to be utilized!