What is happening?
SightCall uses two primary companies for distribution and handling of SMS messaging, Twilio and Vonage. Due to new regulations, starting on October 1st, 2022 in the USA and Canada, toll free phone numbers used for text messaging (SMS) need to be verified to the business that is sending the SMS.
Why is this verification being enforced?
United States Congress passed the TRACED Act in 2019, mandating that large U.S. carriers had to adopt a broad set of protocols and standards designed to better verify the source of incoming calls and text (SMS) messages and enable carriers and law enforcement to more easily identify bad actors behind them.
Small to mid-size carriers had until 2023 thanks to an FCC extension, but that was shortened to June 2022 for smaller providers that originate a large amount of traffic with a 90 day enforcement period that ended September 30, 2022.
The bill that has been passed explains that […] the Federal Communications Commission (FCC) must require voice service providers to develop call authentication technologies; establish when a provider may block a voice call based on information provided by the call authentication framework, but also establish a process to permit a calling party adversely affected by the framework to verify the authenticity of their calls;[…]
The bill also implements a forfeiture penalty for violations (with or without intent) of the prohibitions on certain robocalls.
What does verification mean?
It means that a contact from the business has completed a registration and verification that puts a contact on file with the SMS provider (ex: Twilio) and also provides evidence that consent to send SMS messages has been received by people that might receive an SMS message.
SightCall has taken the necessary measures to submit verification details to SMS providers on your behalf and register a dedicated phone number that must be then whitelisted to your account.
You will need to complete this form so that SightCall can submit verification details on your behalf when registering dedicated phone numbers for your account.
What does consent mean?
The consent is necessary to prove that users accessing SightCall platform as a guest (customers, technicians, patients, etc) are able to opt-in to receive SMS messages.  This is part of the verification guidelines SightCall has been advised to follow by the SMS providers.
Therefore, you will need to show (by URL or screenshot) that people that will be your guests (customers, technicians, patients, etc.) will be able to opt-in to receive SMS messages.
*Note: This consent is only required going forward and past users are not required to have consented to use verified numbers in the future.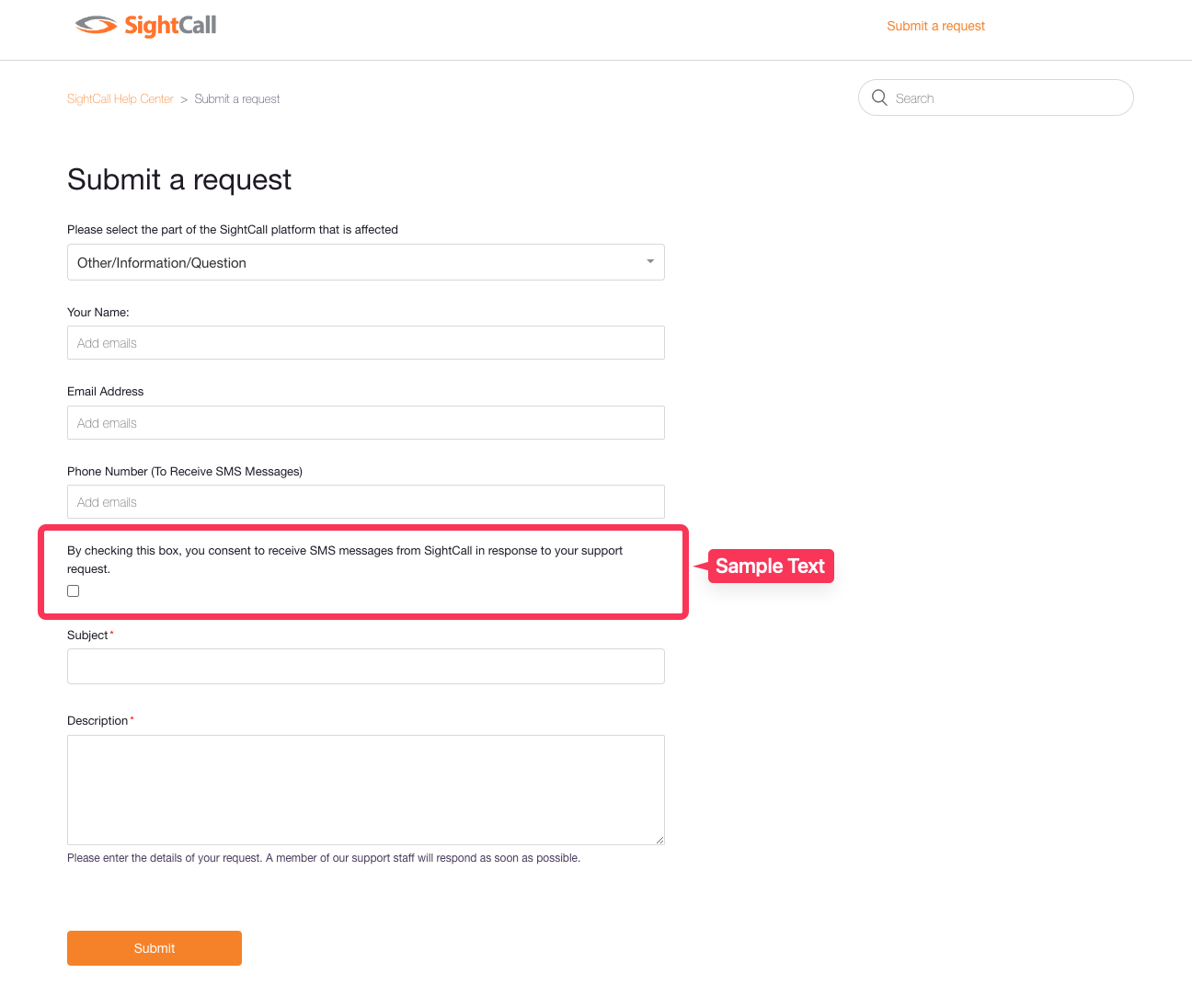 Who is enforcing this and how?
The individual SMS providers (ex: Twilio) are responsible for the verification and the enforcement. Twilio, for example, will enforce a daily SMS send limit of 2k per day from unverified numbers. See the FAQ pages below for more information. We recommend you refer to the FAQ pages below for more information on the thresholds applied for SMS volumes:
Does this apply to me?
This applies to all businesses sending SMS messages to the USA or Canada. It's not about where your company is located, it's about the guest/recipient's location. This regulation may be extended to other nations in the future.
What action is SightCall taking to assist with this?
SightCall platform has been updated to handle tenant specific phone numbers. One number is only valid with one SMS provider. Therefore, to have a primary and secondary SMS provider, we will register numbers with both Twilio and Nexmo (Vonage) on your behalf.
Who handles the verification with the SMS provider?
SightCall must submit the verification on your behalf to each SMS provider since SightCall will purchase the numbers on your behalf. Please note, once we do so we are reliant on the SMS provider to confirm this number has been whitelisted and therefore authorized to use.
Do unverified numbers still work today?
Yes. We have not been informed of a hard deadline, but we expect the SMS providers to gradually lower the limit for daily SMS messages to unverified numbers.
How will SightCall collect verification details?
We require you to please complete the form in the link below, so that SightCall can submit registration information on your behalf to both SMS providers.
How does the SMS provider know explicitly that a Guest / Attendee's number has been consented?
They don't. As soon as the intake form has been submitted, the SMS provider trusts that your company will not spam the public with SMS invitation for SightCall session. The SMS provider just need to know that there's a form exists somewhere in your company where you are collecting public consent to send the SMS invitation for SightCall session.