SightCall for Microsoft Teams allows an agent to send a SightCall session link to a guest from within Teams. The agent can choose one of their use cases to generate the session link. If the tenant has multiple use cases (scenarios), they will be accessible in SightCall for Microsoft Teams. This integration is paired with a SightCall tenant.
Currently, each Microsoft Teams SightCall package is associated with only one SightCall tenant. This association is made by registering the package using the SightCall tenant API key.
Requirements
You need admin rights on the SightCall admin portal, admin.sightcall.com, and the Directory ID for your organization's Microsoft Azure portal.
Register your SightCall package
To register the SightCall package, you need the Azure Directory ID. The Directory ID is used in the SightCall package activation.
Locating your Directory ID and SightCall API Key
You need your Directory ID from your Microsoft Azure Portal, portal.azure.com, to register your SightCall package. If you have access to your Azure Portal, you can find the Directory ID using the steps below. If you do not have access, then you can request it from your IT department.
Sign in to the Microsoft Azure Portal, https://portal.azure.com
Navigate to the Properties tab in the left navigation.
Locate the Directory ID and copy it.
In addition, you will need the SightCall tenant API key from the Administration > Tenant tab of the admin portal (requires super admin).
Registering your package
When you register your package, you can select Auto-provisioning of agents. When a user attempts to use the Teams integration for the first time, they are prompted to sign on to SightCall. If they do not have an account on the tenant, auto-provisioning causes the tenant to automatically create a new agent account. The new agent receives an email helping them create an account.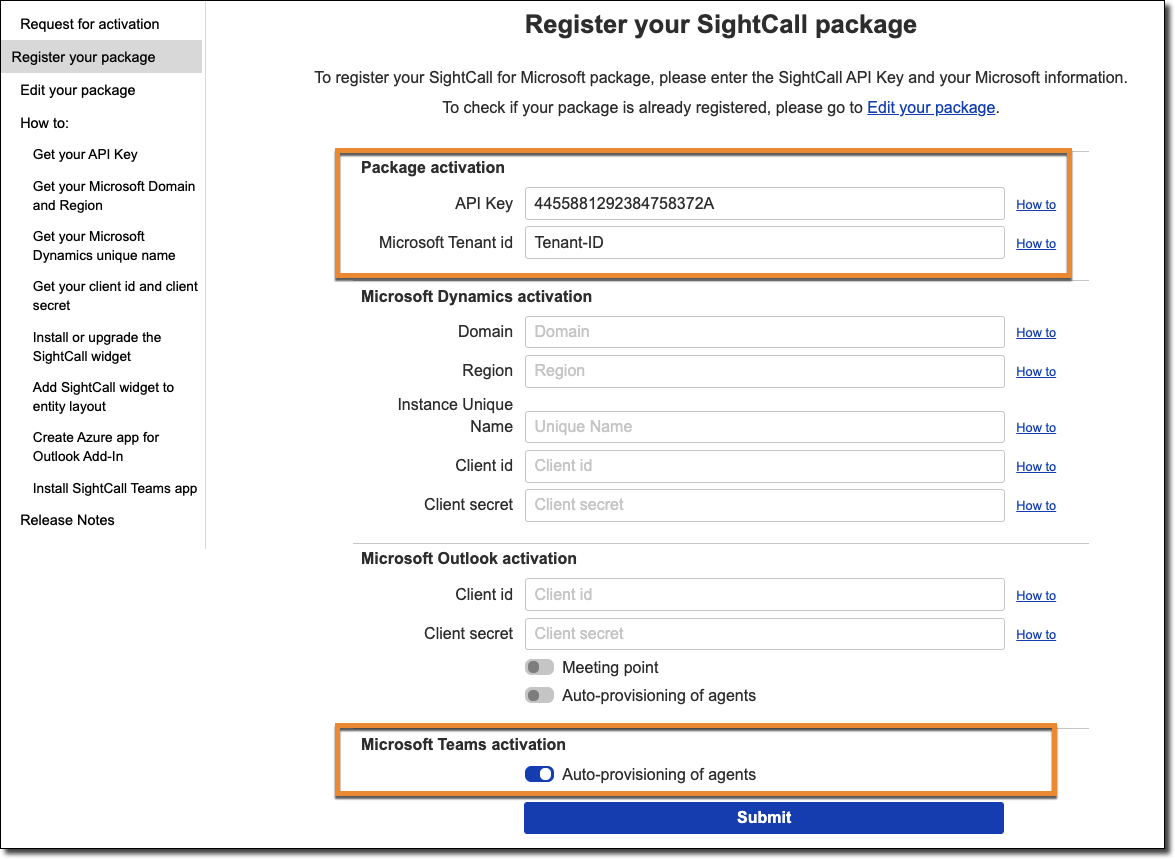 To register package and enable the SightCall for Outlook add-in:
Select Register your package on the left navigation.
Add your SightCall API key with your tenant in the Package activation.
Enter the Azure Directory ID in the Microsoft Tenant ID field.
Optional: In the Microsoft Teams activation section, activate Auto-provisioning of agents by selecting the slider.
Select Submit.
New agent accounts are automatically created in the SightCall tenant when using this integration if they do not exist already.
NOTE: Agents need to have the same email address used for both Microsoft Teams and the SightCall app.
If "Auto-provisioning of agent" is not activated, add an agent account in your SightCall tenant to use with the Microsoft Teams integration:
Open the SightCall admin portal, https://admin.sightcall.com.
Select Users and add your agent with the same email that they will use for Microsoft Teams.
Save the changes.